What does this mean for your mortgage rate?  The Fed funds rates doesn't directly affect any mortgage rates apart from home equity credit lines.  While it often moves in the same direction as the traditional 30-year fixed mortgage rate in the long run, there are months and even years when they seemingly have nothing to do with each other.
The Fed Funds Rate applies to loans with a term of one day. That is why we sometimes see longer and shorter term rates move in OPPOSITE directions (which accounts for the "inverted yield curve" phenomenon that made news in 2019 when 10-year Treasury yields were lower than all of the short-term rates under two years, including Fed Funds).
But, even if long and short-term rates always moved in the same direction, there's a more important reason that mortgage rates might not follow the Fed.  The bonds that dictate mortgage rates trade thousands of times a day.  Mortgage lenders update rates at least once a day.  In contrast, the Fed only meets to consider changing its rate eight times a year, barring emergencies (like Sunday).  This means mortgage rates can and do move well in advance of Fed rate changes.  Indeed, the behavior of longer-term rates like mortgages can often predict the market conditions that prompt the Fed to make a move.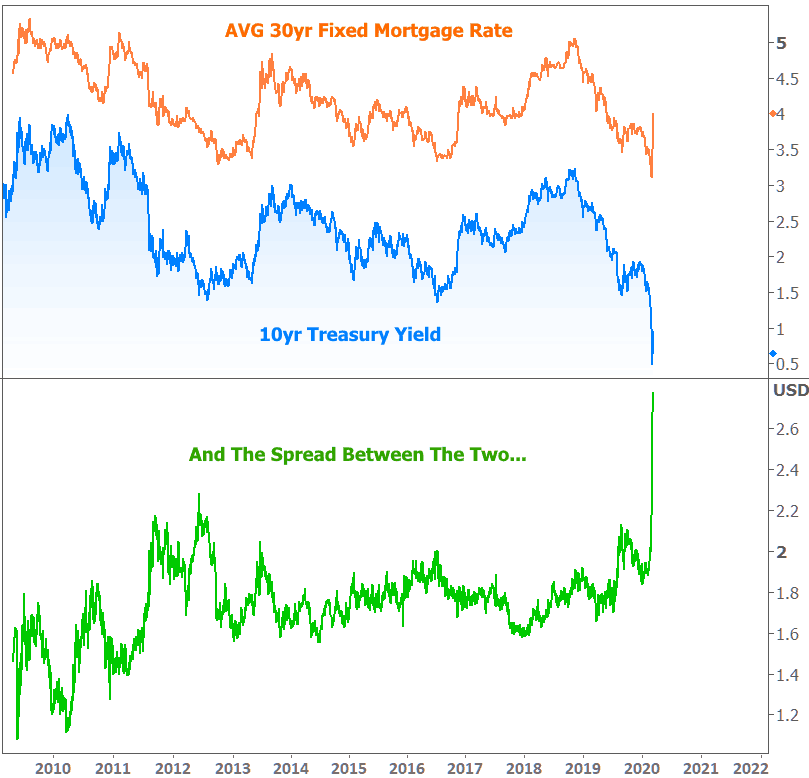 The Fed did announce a new mortgage bond buying as a part of its QE package today (QE- Quantitative Easing is the term for the Fed's large-scale bond buying programs designed to lower interest rates and encourage free flow of lending/capital).  This will help restore the correlation between 10-year Treasury yields and mortgage rates, but it WILL NOT immediately restore the normal space between them.
While mortgage rates take cues from the broader bond market (especially when markets are relatively calmer), they move for several other reasons.  That caused a lot of head scratching this week as mortgage rates jumped at the fastest pace EVER while many were still waiting for them to drop as much as Treasury yields had dropped.
One of the biggest reasons for the mortgage vs Treasury disconnect was a massive supply of new mortgage debt caused by rampant refinance demand recently.  After all, even if people felt like rates SHOULD BE lower, they nonetheless hit new all-time lows last Monday and successively broke 3-year lows in weeks prior.  This flood of mortgages needed to be sold to investors for mortgage lenders to keep lending.  But investors were no match for the unprecedented spike in supply.  Like any marketplaces with way too many sellers and not enough buyers, prices rapidly fell, and falling prices on mortgages equate to higher rates for consumers.
So, what should you do?
If you haven't done so already, make sure your Mid America Mortgage Loan Officers have what they need in order to lock your loan when the time is right.  Make a game plan.  Talk about where rates are now and what rate you're looking to lock.   Make sure that they have everything needed in order to lock.  They may not have a very big window in which to pull the trigger (that window was less than a few hours wide at the all-time low rates last Monday morning).