In 2020, mortgage rates started the year at historically low levels and went even lower as the pandemic took its toll on the economy. What can we expect as we move into 2021?
Mortgage Rate Forecast: Will it be the Same?
Most experts expect that mortgage rates will remain low through the end of 2020 and on into 2021. Even if a vaccine is successful and the pandemic recedes, the economic fallout will take some time to clear.
Major forecasters such as Fannie Mae, Freddie Mac and the Mortgage Bankers Association all expect that rates will continue to be low. In 2020 rates for a 30-year dipped under 3 percent for the first time ever, and they're expected to stay near 3 percent well into next year.
The Fed has committed to keeping interest rates in the overall economy low at least through 2022. While Fed rates aren't the same as mortgage rates, low Fed rates tend to drive all rates lower.
For home buyers, it's a great time to act, and favorable mortgage rates will probably continue to be available for at least another year and maybe longer.
As always, predictions can be wrong, and there are a few things in the background that could possibly trend mortgage rates upward. For example, if the housing supply grows, and more people seek mortgages, the increased demand could push rates up. Also, continued government borrowing could create more general competition for loaned money, which puts upward pressure on rates.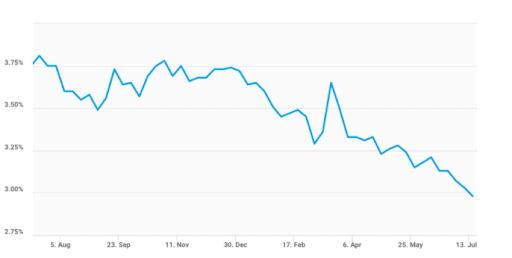 2020… The Year of Happy Homeowners
Reduced mortgage rates have been a boon not only for homebuyers but also for homeowners looking to refinance. As rates have plummeted, hitting record lows multiple times in 2020, many homeowners have exchanged their higher rates for lower ones.
The benefits of lower rates are lower monthly payments and less interest paid over the life of the mortgage. With the 2020 refinancing boon, people who already own homes have been able to get in on the bounty.
There is a small dark cloud on the horizon. On December 1, 2020, a 0.5% fee is scheduled to be imposed on most refinances. This fee has been met with resistance and has already been delayed once, but if it goes into effect it will bump up mortgage rates for people who are refinancing.
Historical Perspective
A lot of us have become so used to seeing mortgage rates in the fours and threes and even lower that we've forgotten how unusual this is. 30-year rates under 5 percent have been around since about 2011, which was near the low point of the housing market following the crash of 2008. Prior to that, rates were in the fives and sixes in the first decade of our century. They ran 6 to 9 percent in the 1990s and soared into double digits in the 1980s.
The point? Even if the experts are off and 2021 mortgage rates rise a bit, by historical standards they'll still be low. Anyone who takes out or refinances a mortgage any time in 2020 or 2021 is likely to be happy with the rate for many years.
What This Means for 2021
30-year mortgage rates in 2020 went under 3 percent for the first time and set record lows several times.

Rates are likely to remain low for the rest of 2020 and throughout 2021 as the economy works through the aftermath of the pandemic and the Fed continues to keep its rates low.

Whatever rates prevail through 2021 are likely to a bargain by historical standards.
Looking to make a decision about a new mortgage or refinancing? Contact Mid America Mortgage to answer your questions and help you take advantage of today's great mortgage rates.