'Tis the season for many U.S. shoppers to madly dash around in search of the perfect gifts. You're probably staking out your favorite malls, shopping centers, and online retailers in search of the "just right" deal on the best gift EVER! What you need to know, though, is that there just might be a better gift out there. In fact, this is a gift you can give yourself.
"What is it?" you ask.
It's the gift of a better mortgage just in time for the holidays.
Yes, you heard that right!
A holiday mortgage just might be your best gift yet. Here's why.
The Stats
According to ATTOM Data Solutions, buying a home on December 26 can results in savings of up to $2,500 on the sales price of your home alone. In fact, seven of the 10 best days of the year for home buying prices and discounts occur during the month of December. That makes December the best month to buy a home.
10 Best Days of the Year to Buy a Home
Below is the top 10 list from ATTOM Data Solutions spelling out the best days to buy a home in the course of a year. As you can see, the best days are right before and shortly after Thanksgiving, Christmas, and New Year's Day.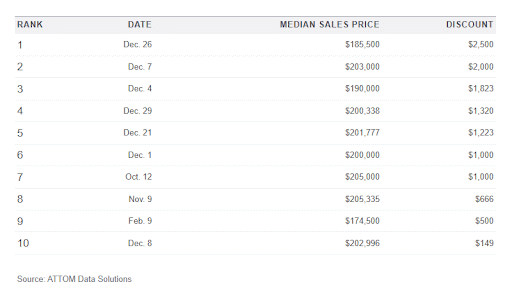 Why You Should Consider this Deal
Never underestimate the potential value of motivated sellers when it comes to purchasing a home. Some sellers are holding off on purchasing the homes they want until they sell their homes. In order to "make the buy" before the end of the year, they often offer deep discounts in December so they can take care of the tax advantages available by buying before the end of the year. You can have those same tax benefits by purchasing your home in December, too.
Another possible benefit to consider is the availability and cost of movers. During the warm summer months, there is greater competition for moving services with many of them booked weeks in advance. Such is not the case during the winter months where you may be able to manage off-peak discounts and greater availability.
But that's only part of the reason.
There's a saying, "All real estate is local." It applies when timing your new mortgage. While there are some areas where you may not see as much of a price break, because winter months are relatively warm and comfortable, there are other parts of the country where the threat of winter weather is a major motivator for sellers to sell before it sets in. That means the winter months are perfect times to make offers in hopes of encouraging sellers to part with their homes before true winter sets in.
Other factors to consider are mortgage holiday rates. While they may not necessarily be associated with the holidays, December is the month before Federal Reserve interest rate hikes resume. Now is the opportunity to land the best rates available in the history of interest rates making a holiday mortgage a huge gift you can give yourself.
Finally, this year has seen more than its fair share of ups and downs resulting in a buyer's market that is a little slower than usual. This slow buyer's market creates antsy sellers who may be more willing to negotiate than normal. This means you have the opportunity to swing incredible deals.
Questions? Concerns? Call Mid-America Mortgage!
A holiday mortgage can help you save big when purchasing a home. Not only are home prices generally good according to the ATTOM Data Solutions analysis, but the fact is sellers become nervous as December wears on creating opportunities for better prices. Top it off with excellent mortgage holiday rates that won't last much longer and it's the perfect time to buy. Contact Mid-America Mortgage today to learn how we can help.